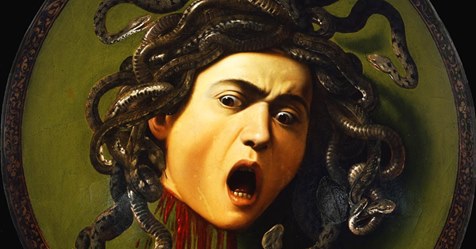 Rape, Rage, and the Monster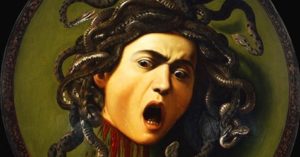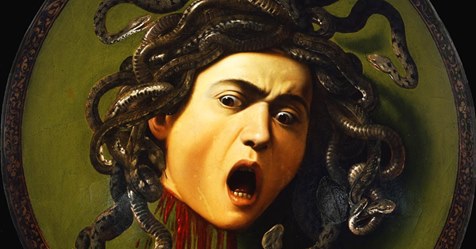 There are timeless myths and stories that speak to the horror of rape. Rape makes us insane, and it can empower us to heal. Then, there can be hope. Hope potentially ushers in a more profound understanding of the incredible force that is rage and the patriarchy that ignites it.
A recent Broadly article notes, "If we go back to Greek antiquity, Medusa was a mighty force endowed with the power to both kill and redeem. Sculptors and painters would use the Medusa head as an apotropaic symbol to ward off evil spirits. But her tragic beauty was even more inspiring. Take the Roman mosaic floor on display at the Getty, where Medusa's wild, snaky locks are depicted as wind-blown curls, her petrifying gaze an elegantly turned head. Her head peers out from the center of the mosaic, a protective talisman offset by a shield of concentric circles. There are countless other examples, too, where she's definitely more muse than monster . . . Beautiful victim, monstrous villain, powerful deity—she's all of those things, and more besides. Perhaps it's that mercurial nature that makes her an endless source of fascination. She is, in a sense, a site for our collective projections of both fear and desire: simultaneously a symbol of women's rage and a figure sexualized by the very patriarchal forces she is seeking vengeance against."
In symbolic dream material treated in depth psychotherapy, the Medussa emerges as an image of rape. When the symbol enters treatment, I wonder about the unresolved sexual pain of the patient. Over time we move into the pain, find our way in and through it, and therapeutically understand the victim's story. We all have stories, some about sexual pain.
Unresolved sexual trauma is a monster. Visionary fiction may visit the hallowed realm of rape, rage, and the monster. The dark side of the patriarchy is the monster of all manner of violation. Sexual rape is intimate violation. A monster enters and plunders.
In visionary thrillers such as Goddess of the Wild Thing and The Unholy, we experience trauma. Unconsciously we're drawn to the stories we need to read, must read. They nourish the soul as well as the mind. In them, something within us is touched. It needs to be touched because it's lying there dormant and in need of awakening.
"Consciousness", reported one patient, "is so hard." "There are so many other things I'd rather do with my time than turn within and discover what's there. I've rushed around, done this and that in a frenzy. It's all been about escaping myself—getting away from the monster and my rage. It's there for a reason. I'm glad I faced the monster and my rage. I've told my story and have come out the other end of that dark tunnel. But, it was no easy task to face the monster and the rage."
Good stories, thrillers, take us into dark tunnels of mind. We're hesitant to go there. We should be. They are scary places. But, unless we take things a step at a time, enter into our story we never discover the hope that can heal.
Hope comes at the price of our time, energy, and effort. Nothing happens without time, energy, and effort. There's an emotional zero, a big psychic zip, without investment into self. Remember, passivity is an investment, a lethargic and fruitless one, but an investment nonetheless. The unique fact about an investment in story, following instinct into the dark tunnel of discovery regarding self and others, is that there can be hope.
When we read, we do it for a reason. The mind nudges us to read. Stories come our way, tug at us. We listen, respond, and discover that when we read, we receive what we need. We find out that behind the rape, rage, and monster is the hope that we can heal.
https://www.pauldeblassieiii.com/wp-content/uploads/2018/04/safe_image.jpg
249
476
Paul DeBlassie III
/wp-content/uploads/2018/03/weblogo-3.png
Paul DeBlassie III
2018-04-14 12:13:53
2018-04-15 12:55:38
Rape, Rage, and the Monster