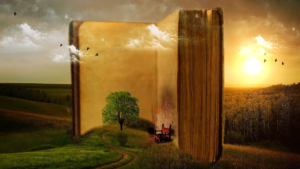 Reading visionary fiction ushers us into an imaginative outside of everyday space and time. The human psyche nourishes itself via reflection of archetypal images and symbols. Realms of mystery occur in dreaming time and reading. In many ways, reading and reflecting on visionary fiction is a waking dream.
As a depth psychologist of forty years, I've tended hundreds of dreams with patients. We've explored and worked through intense emotional and spiritual crisis, physical and sexual trauma, and daily life stress. Inevitably the images and symbols discovered in dreams helped them to heal.
Images and symbols in visionary fiction reflect the archetypal workings of the unconscious mind. Archetypes are the age-old transcultural symbols which, for centuries, healers and seekers have sought understanding and transformation. Quietude, meditation, and reading encourage their appearance from the depths of the soul.
Yesterday, a person told me how important novels are for them. They said, "I really get into the characters. When magic and mystery are there (that's the type of novels I read), then I'm pulled in right off. I look forward to opening the e-book every day. By the end, I feel like I've lost a friend. Then it strikes me that I've made a friend, a story that I've learned from and that's changed me a little bit – just a little bit. But that little bit makes a big difference."
Readers are sometimes shocked that elements of urban fantasy and even horror find their way into visionary reading. Well, life brims over with unseen, phantasmagoric dimensions. We're usually not aware of these realities. Reading, entering a world of wakeful dreams, sensitizes us to the otherworld. It operates behind the scenes of daily life.
Raising consciousness via visionary fiction happens as images and symbols waken in the psyche. They live within, they sleep within, and they waken within us with awareness and attention. Stories bring awareness and attention to numinous energies. Suddenly, what's taken place in the narrative occurs in your life. Or, perhaps, it's already taken place. Awareness gives us pause, stirs reflection and meditation. We wonder. We stay open. We step into soulful stories, a visionary world, and images and symbols quicken a sense of mystery that lies behind the scene of daily life.
"Live Deeply…Read Daily"
https://www.pauldeblassieiii.com/wp-content/uploads/2019/08/Facebook-1920-x-1080-29.png
1080
1920
Paul DeBlassie III
/wp-content/uploads/2018/03/weblogo-3.png
Paul DeBlassie III
2019-08-11 11:01:15
2019-08-11 11:01:15
Step Into a Visionary World